I had gone boutiquing (a verb I made up on my own for going from boutique to boutique rather than shop to shop) the past few days, casually breezing around for any clothes or trends that might catch my eye. Sure enough something caught my eye. And I feel that it is so important that I share it with all of you trend watchers!
A vest is a powerful accessory. It can make any outfit have its own character because of the easy pairing up it requires. If you're looking to spice up your wardrobe, I strongly recommend going vest shopping. One of the best things about vests are they can be worn during any season. So if you're getting bored of summer trends and even looking forward towards the fall, here are a few looks and tips you may want to follow:
Summer: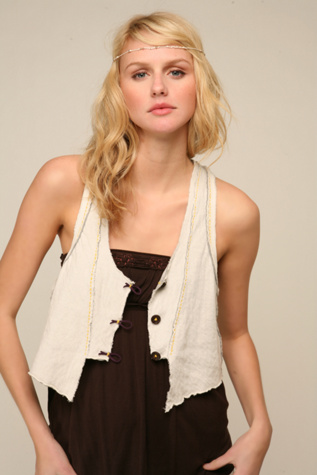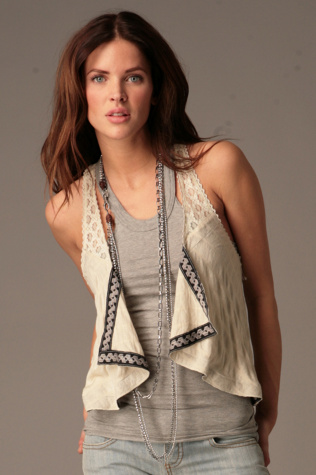 For summer, go for a chic look with the top vest. As pictured, a brown tube top will look great with a light colored vest. Even a baby pink, lacey tank would create a soft look with this vest on. For a vintage look with this vest, try for a pearl necklace and a colorful beaded bracelet. This type of vest will look best with skinny jeans, since it fits loose around the hips. For a daytime casual look, try washed blue jeans with this vest, and for an evening look pair the vest with dark jeans and dark jewelry. It will definitely make you stand out and also look fabulous!
As for the second vest, I picture this as more of a daring boho look. It works best with brown, black or gray underneath. I would stay away from bright or bold colors when wearing this vest, because it will draw attention away from the beauty of the vest and make you stand out for the wrong reasons. Wear dark or neutral colors with it and pair it with dark or black jeans, and you'll be ready to hit the town!
Fall:
Be bold this fall! Whether it's a long "dress vest" with colorful stripes (macys.com) or a stylish leather vest (nordstrom.com), be daring to try out this new trend. I like the stripe vest with black underneath because it will accentuate the figure better and draw attention towards the vest itself. The leather vest works well with any color- brown, purple, pink, I like them all. Both of these vests would look great paired with cute black boots- so if you don't have any, put those on your list too!
Although it may not seem like it, there is a difference between wearing vests in the summer versus the fall. The purpose of the vest in the summer is all about a casual just-thrown-on look to create a summer glow. A successful summer vest look is about seeing the stylish appearance of the person wearing the vest, rather than the vest leading the outfit. In the fall however, the vest should be the main attraction of the outfit. It should be bold and have character for a polished, well put together look.
Either season you choose to wear the vest (if not both) the vest rocks this year, so let's take full advantage of putting together that glow for summer and polish for fall.
Tags: Boutiquing, Vests